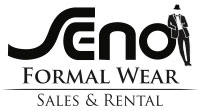 Welcome to Seno Formal Wear's FREE Invitation Online Store! Before you enter, please select
the Seno location that you'd like to use to accept your order and enter the three letter code for that store.
Also, please use the password "SENO" to login. Once you've logged in to our store, then you can begin shopping!
City Codes:
| | | | |
| --- | --- | --- | --- |
| Decatur, IL | DEC | Peoria, IL | MET |
| Bloomington, IL | BLO | Quincy, IL | QCY |
| Springfield, IL | SPR | Champaign, IL | CHM |
| Machesney Park, IL | MAC | Rockford, IL | CHE |
| Bourbonnais, IL | BRA | Peru, IL | LAS |
| Terre Haute, IN | THT | Danville, IL | DAN |
| Pekin, IL | PEK | Sterling, IL | STE |
| Jacksonville, IL | JAK | Freeport, IL | FRE |